KEEPING WATER IN THE FLORIDA KEYS CLEAN AND CLEAR
Aeration and Weed Curtains protect and restore your canal or marina for a more enjoyable waterway.
Florida Keys Aeration is the expert in keeping  canals and marinas healthy by creating the right environmental solutions for the best in water quality, clarity and price!
Our technology will prevent seaweed from entering and
impairing the water quality of your canal or marina.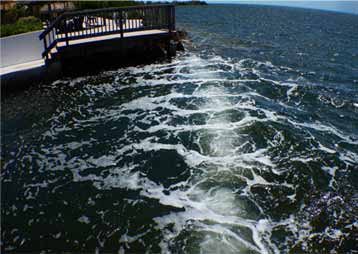 Installation of an air curtain at Key Largo Yacht Club
in Key Largo, FL.
Advanced technology to restore and maintain your waterway.
Exclusive Dealer of Vertex Water Features for the Florida Keys.
Air Curtains, Aeration Systems, and Replacement Parts for Docks, Canals, and Marinas.

Choosing the correct product for your needs can be challenging. At Florida Keys Aeration, we are more than willing to schedule time for an on-site visit, listen to your needs, answer any questions you may have and assist in choosing the correct solution for your particular situation. Whether it's a new weed control curtain or aeration system, we are here to help you find the right solution for you.

We offer a wide range of solutions designed to prohibit floating weeds from entering your canal or marina to products designed to increase oxygen levels in the water column. Visit our online store or give us a call and we'll be more than happy to discuss the best solution for you.

Our air curtains and aeration systems are designed to be simple to install and many of our clients choose to do it themselves. Our team at Florida Keys Aeration is more than willing to explain the installation process and answer any questions you may have. If you would rather have your product professionally installed, we will send a team to do an onsite installation for you.

Maintenance and service go hand-in- hand. At Florida Keys Aeration, we provide preventative maintenance contracts, service and repairs to all air curtain and aeration equipment throughout the Florida Keys. We offer maintenance and service on high quality Vertex systems and all other manufacturers as well. Give us a call to discuss any of your air curtain or aeration service needs.
There are approximately 500 canals throughout the Florida Keys and 350 of them have been deemed impaired. Canals were originally dredged with a shallow canal mouth and a deep harbor. Due to this, floating weeds have entered these canals and have sunk to the deeper areas. Due to the shallow entrance these weeds are trapped and cannot flush out during the tidal changes. Over the years as the weeds collected at the bottom, the canal water changes from blue to brown, oxygen levels are depleted sometimes causing horrific odors, and loss of marine life. Florida Keys Aeration has the tools to stop floating weeds entering these canals and marinas and to restore oxygen levels to acceptable levels for marine life and to rid of the odors.
Canal and Marina Air Curtains:
One of the most popular management systems used throughout the Florida Keys are the air curtains. The air curtains prevent floating weeds and debris from entering the canal or marina which would otherwise cause a significant decrease in water quality, an eye sore for property owners, and a nuisance for watercraft. Diffusers are equally spaced and placed across the mouth of the canal. Using compressed air, each diffuser will release large amounts of air into the water column forcing the water to the surface creating a strong surface current. Collectively, the diffusers act as a barrier for floating weeds pushing them further down the shoreline and into your neighbor's canal! Also, our diffusers are built with boaters in mind. The stainless steel bases sit shallow on the bottom, about 2.0 inches tall. Some information you may need to know: What is the depth at the mouth at low tide? How wide is the mouth of the canal? And where is the power location? The air compressor cabinet for the air curtains require 230V single phase service. We also understand that getting everyone who lives on the canal for approval and funds for an air curtain can be difficult. We have experience with property owners using our various aeration models to create their own air curtain around their private dock. Our aeration systems are available in 115V and 230V.
Canal and Marina Aeration Systems:
Dissolved oxygen is the number one tested value to indicate a canal's overall water quality. When dissolved oxygen levels are consistently low throughout the water column many issues can occur in the canal such as loss of marine life, an increase of bottom muck, foul odors (rotten egg smell), and loss of water clarity. Florida Keys Aeration is a certified Vertex Water Features dealer for bottom diffused aeration systems. When properly sized for the volume of water, these aeration systems will restore oxygen levels throughout the water column to the proper parameters to reduce bottom muck, increase water clarity, and will get rid of the rotten egg smell. As many canals are different lengths and depths, Florida Keys Aeration provides various aeration system configurations to match your canal. Available in 115V or 230V single phase, Florida Keys Aeration has systems ranging from 1/4HP to 4HP to provide as little or as much oxygen needed to restore and maintain your waterway's health.
Fill in the form below letting us know your current water issues and we'll be in touch with the right solution soon!
Address:
2100 NW 33rd Street
Pompano Beach FL, 33069
Phone:
+1 (786) 548-7703
Hours:
Mon-Fri 8am – 5pm
Sat-Sun: Closed